Covid 19 - Updates
Here at Lexis School of English our priority is always the safety and wellbeing of our students and staff members. We will therefore continue to monitor the situation and act in accordance with advice from the government and English UK and will post further updates as necessary.
Newest on top 
---
5th May 2023
The Pandemic is officially over !
'Yesterday, the Emergency Committee met for the 15th time and recommended to me that I declare an end to the public health emergency of international concern. I have accepted that advice.
It is therefore with great hope that I declare COVID-19 over as a global health emergency.'
WHO Director-General's opening remarks at the media briefing – 5 May 2023
https://www.who.int/news-room/speeches/item/who-director-general-s-opening-remarks-at-the-media-briefing---5-may-2023
https://www.bbc.co.uk/news/health-65499929 
---
2nd November 2022
All Covid travel requirements for passengers arriving in the UK ended on Friday 18 March 2022.
No-one needs to take a Covid test before travel or after they arrive. No-one needs to quarantine. The passenger locator form is no longer required.
What to expect in the UK
The UK has run a widespread and successful vaccination programme. Students can expect a normal experience when studying in the UK.
The use of face coverings is no longer a legal requirement but it is still encouraged in some public indoor settings.
You may need evidence of your vaccination status or a recent negative Covid test to access some events and venues.
Some social distancing measures may be in place in some public settings.
There may be some differences to the rules in the UK's four nations. Please check national government websites for full details for England, Wales, Scotland and Northern Ireland.
Covid symptoms and testings
Language centre staff will explain to students exactly what they should do if they notice any Covid symptoms.
Covid vaccinations in the UK
Everyone living and studying in the UK is encouraged to get vaccinated.
Any student who lives in the UK and is registered with a GP can access a Covid vaccine. All students in England can register with a GP. They do not need to provide proof of address or immigration status.  There are slightly different rules and procedures for registering with a GP in Scotland, Wales, and Northern Ireland.
Studying in the UK
Accredited English language centres in the UK have to meet high standards of care, and conduct regular risk assessments to help them keep students as safe as possible.
Face coverings in classrooms are not a legal requirement, but language centres may still ask students to wear one in some situations.
Coronavirus concessions for short-term students
Students are able to request 'exceptional assurance' if they are unable to return home from the UK due to the pandemic.
Visit GOV.UK: Coronavirus (COVID-19): advice for UK visa applicants and temporary UK residents
Safety measures might change and will depend on each school setting, but may include:

Face coverings may be required in communal areas of the school

Regular cleaning of classrooms and surfaces around the school

Regular handwashing and sanitiser use
Smaller class sizes

Learning, living and socialising with the same group of students (in 'bubbles')

Sitting at the same desk daily, and not sharing study materials

Windows and doors open in classrooms and/ or ventilation systems in use

One-way systems around the school building

Scanning a QR code or signing a register

Virtual receptions and remote working for some staff
---
4th April 2022
The government has removed remaining domestic restrictions in England. There are still steps you can take to reduce the risk of catching and spreading COVID-19:
https://www.gov.uk/coronavirus
---
20th January 2022
Here at Lexis School of English we follow government guidelines closely and implement them as soon as possible. We have to do our part to help stop the spread of Covid-19!
How to do a lateral flow test: 
How to get rapid tests
https://www.nhs.uk/conditions/coronavirus-covid-19/testing/regular-rapid-coronavirus-tests-if-you-do-not-have-symptoms/
Pick up tests from a pharmacy:
Picking up tests from a pharmacy is the quickest way to get a rapid test for most people.
If you give the pharmacy a 'collect code' when you pick up the tests, it helps the NHS match your details to the tests. 
Order tests to do at home Information:
Only order online if you cannot get a test through other methods. This frees up home delivery for those who need it most.
---
20th September 2021
The UK government's announcement on Friday evening of a simplified system for international travel is both welcome and timely.
 A straightforward red list and rest of the world 'go' list will replace the complex red/ amber/ green traffic light system; new countries including Turkey and Oman will come off the red list; and 17 new countries will be added to the quarantine free travel list for fully vaccinated adults and under 18s from Monday 4 October. These changes will occur in all four UK nations, while for arrivals in England, the testing requirements will also change in October. 
Here are the main points of the announcement:
From Wednesday 22 September eight countries will move off the red list: Turkey, Oman, Pakistan, The Maldives, Egypt, Sri Lanka, Bangladesh and Kenya.
From Monday 4 October the current traffic light system will be replaced by a single red list and simplified travel arrangements for everyone else.
Also from Monday 4 October the list of fully-vaccinated travellers who do not need to quarantine on arrival in England will be expanded to include those with a full course of the Oxford/ AstraZeneca, Pfizer, Moderna or (single dose) Janssen vaccines from a relevant public health body in an additional 17 countries: Australia, Antigua and Barbuda, Barbados, Bahrain, Brunei, Canada, Dominica, Israel, Japan, Kuwait, Malaysia, New Zealand, Qatar, Saudi Arabia, Singapore, South Korea and Taiwan. 

This is in addition to those fully-vaccinated under an approved programme in the US, EU/ EEA and UK, making for 50 countries in total. Note the Department for Transport have confirmed that under 18s will be treated as vaccinated adults if they are from the UK, or 50 other countries where vaccine status is recognised.
These fully-vaccinated travellers will not need to take a pre-departure test (PDT), a day 8 PCR test or quarantine for 10 days. They will continue to need to book a day 2 PCR test in advance of travel and complete a passenger locator form.
Those travelling from non-red list countries who do not meet the eligibility requirements for fully-vaccinated travellers will continue to need to quarantine for 10 days, take a pre-departure Covid-19 test and pre-book day 2 and day 8 PCR tests. They can still take a day 5 test-to-release test to shorten their quarantine period (England only).
The rules for arrivals from red list countries are unchanged.
From the end of October, eligible fully-vaccinated travellers (see above) will be able to replace their day 2 PCR test with a cheaper lateral flow test. Anyone testing positive will need to isolate and take a confirmatory PCR test at no extra cost. This PCR test will be genomically sequenced to help identify new variants of Covid-19. 
> read the government's announcement on the new system for international travel
> read full details of the new rules for international travel 
11th May 2021
Face coverings no longer required in schools and colleges from 17 May 2021.
Also.....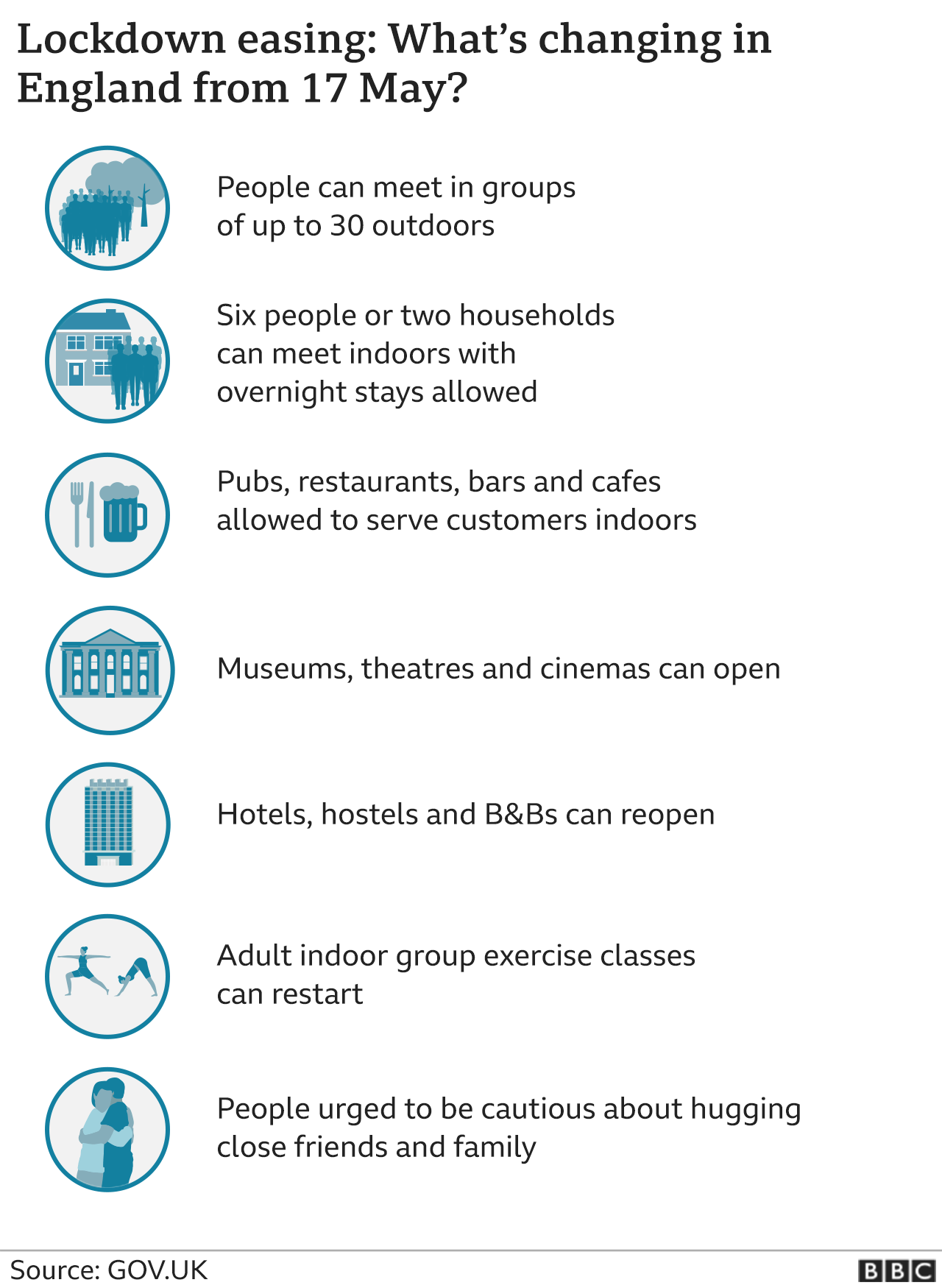 ---
10th May 2021
Travel traffic light system: how does the three-tier system work and which countries are red, amber and green?
Foreign getaway destinations have been ranked under a traffic light system, with fewer restrictions tied to the places boasting the lowest coronavirus rates and high vaccination take-up.
Countries have been graded either green, amber or red, according to how well they are coping with the pandemic.
Passengers will be required to take PCR tests before leaving and before returning sparking concerns that some holidaymakers could be priced out of travel.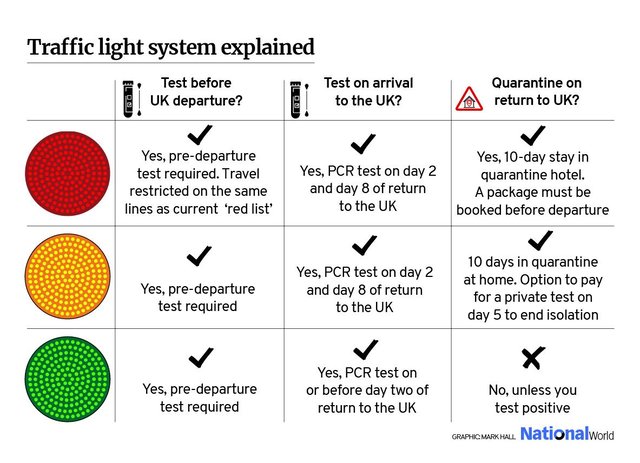 ---
12th April 2021
Today saw the beginning of Step 2 of the government's roadmap out of lockdown.
It is so nice to see all the shops open and the high street buzzing with life again.
For more details on what has changed, please see our post of 26th February 2021.
---
8th March 2021
We are absolutely delighted to announce that from today, Lexis has reopened its doors and resumed face-to-face classes.
It is so lovely to see all our students again and we look forward to welcoming many more to London and our school, as the restrictions are gradually lifted in accordance with the government's roadmap out of lockdown. (See previous post).
26th February 2021
English UK shared the government's new plan for a four-step roadmap out of lockdown in England.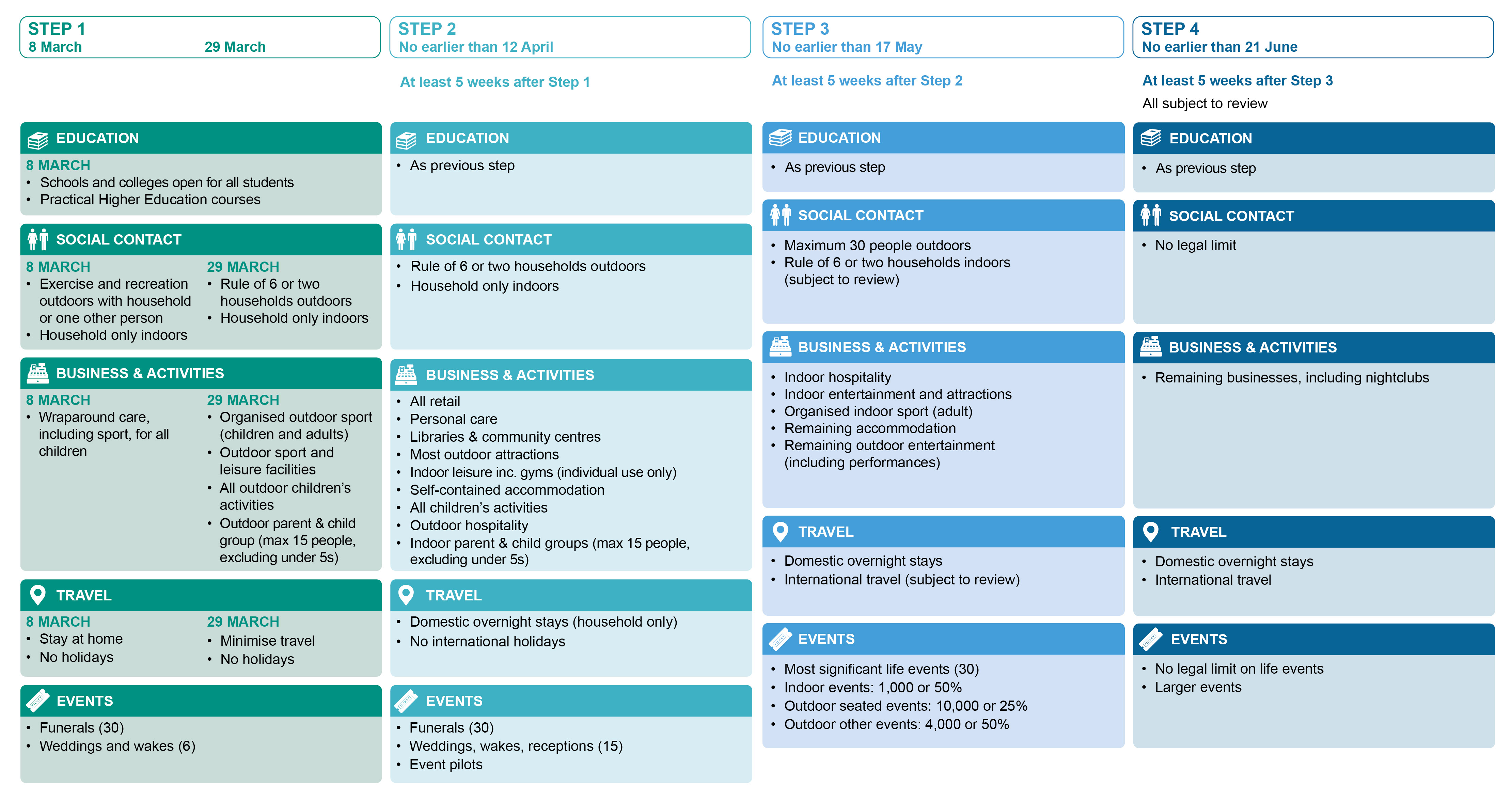 ---
23rd February 2021
Yesterday, 22nd February the UK government announced how the current lockdown in England will be eased, starting with the return to face-to-face education from 8 March. The Prime Minister Boris Johnson  called it the roadmap out of lockdown. 
Lexis is currently reviewing its risk assessments and prepares for a secure and safe return to face-to-face learning on the 8th March.
We will operate safe learning and working environments for students and staff in accordance with Covid-19 secure guidance, which English UK will update in line with published government guidance. 
For a full update, please see our Blog - The Roadmap out of lockdown
---
17th February 2021
Next Monday, 22nd February the UK government is set to reveal its 'roadmap' for gradually easing restrictions and moving out of lockdown in England.
Like everyone else, we at Lexis are awaiting this announcement with anticipation, as we expect to be told when state schools will be allowed to reopen. Following this, and based on the latest updates and advice from English UK, we hope to soon be in a position to publish our own plan for reopening on our website.
Therefore please check back soon for further news on this.
---
15th February 2021
On 14th February, the UK government announced that more than 15 million people in the UK had received their first coronavirus vaccine. This means that it has met its target to vaccinate the top four priority groups of the most vulnerable people
Prime Minister Boris Johnson called it a 'significant milestone'.
Here at Lexis, we welcome this news as further proof that the UK is leading the way in the fight against Covid-19.
---
5th January 2021
On 4th January the UK government announced a new national lockdown in England from today. This includes closing all primary and secondary schools until February half term (until 14th February).
Although private English language schools like Lexis are not under the direct control of the Department for Education, we follow the guidance given by English UK (the national association of accredited English language centres in the UK) and we fully support the government's decision to close schools to minimise the spread of Covid. 
As a result and in line with the UK government guidelines, we are temporarily moving all our classes online, with the same number of lessons per week as in school. If students do not wish to transfer to online courses, they will be offered a credit note valid for two years from the course start date.
Not all news is bad news! As you know the UK Government is carrying out a massive vaccination programme and we hope that this will enable the world to return back to normality. In fact, we are counting on it!
However, our school office remains open Monday to Friday 9:00 am to 3:00 pm. If you have any questions you would like to discuss, call the office on +44 208 346 9802 or request a Zoom call by emailing on info@lexislondon.com. We are here for you.